End-To-End Gaming Solutions
Our game developers have expertise in developing 2D and 3D games, AR/VR games, and multiplayer games.

Game Development
We have experience in all popular game engines, including Action, Simulation, RPG, EdTech, FPS, TPS, Single-player, and Multiplayer. Our team is up-to-date with the latest technologies and trends. Furthermore, we provide post-launch support services such as bug fixes, game improvements, and marketing support.

Development Tools
Our game development team uses the latest frameworks, including Unity 3D and Unreal Engine, to produce the best output at all times. We pride ourselves on our ability to iterate and create high-quality content rapidly. We constantly research new technologies and techniques to stay ahead of the curve.

Blockchain
We offer various blockchain game development services across multiple platforms, including Ethereum, EOS, TRON, and Hyperledger. We leverage the latest technologies, such as Blockchain contracts, NFTs, and Metaverse, to develop secure, transparent, and immutable games for our clients.

2D Art and Animations
Our experienced team of 2D game artists will bring your game to life with beautiful hand-drawn artwork. We provide various services, including Concept art, 2D art and wireframes, UI, and UX. 2D sprite and spine animations. Our artists are experienced in working with software like Photoshop, Illustrator, and others.

3D Modeling and Animations
We can create realistic 3D character modeling and rigging, customize 3D environments, and craft life-like animations that captivate the players. Our experts also provide technical support so you can manage and maintain your virtual gaming world and go beyond the competition.

Virtual World
With a combination of 3D visuals, sound design, and motion tracking, our developers can craft extraordinary and exciting stories, worlds, and puzzles that can only be experienced in VR. We have a solid grip on AR/VR/MR/XR, Oculus Quest, HTC Vive, and Gear VR to give you create unique and interactive experiences.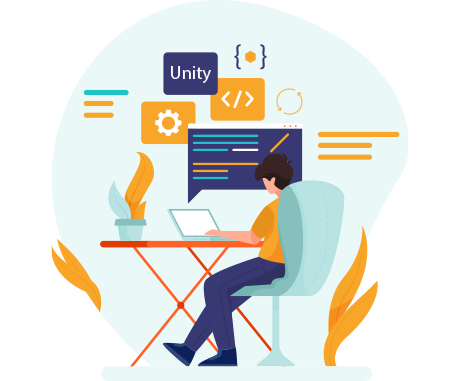 Our Process
Project Initiation
Pre-Production

Game Design Document
Technical Design Document
Concept art
Gameplay design
Prototyping

Production

Core development of the game
Complete Game art, modeling, and animations
QA cycle

Post-Production

Beta Launch
Game marketing and analysis
Release and distribution