Web App Development Process & Strategy
Helping you in order to develop a great web application, that will increase your digital presence immensely.

The Research
Most of the technical research is done after a basic map of the initial requirement is made. The purpose of the research is to find a compatible front-end and back-end framework. That can fit well with the requirements of the application. After this the team can move on, to create a rough sketch of the components.

Wireframing
After research, a sketch of the plan is made by placing the requirements with an appropriate framework. It includes other phases like development, marketing strategy, and an approximation of time that is required for completion of the project. The sketch is kept flexible to accommodate any changes made during development.

Technical Feasibility Assessment
Assessment of the application and the value behind it is very important for any company. That is why feasibility assessment is done by experts to ensure there are no risks involved in undertaking the project. After this, the developers have an estimated value of what the project will bring to the table.

Prototype
This is the phase where the developers prepare a testing version of the application. This is called the prototype or trial version, and this version is constantly tested to ensure timely improvement. Prototype testing is often done by the developers in rare cases professionals from outside are brought in to test the application.

Design
This is the phase where the design of the application is in a firm state. This is thanks to the prototype testing that roots out any issues and helps the app reach a firmer state. After the design is finalized the team them moves on to dedicate the entirety of their time and resources.

Develop
This is the phase where the application officially enters into the development phase. Now the developers work on its front-end and back-end framework to give it a proper structure. Front-end development focuses on UX designing. Whereas, back-end development focuses on data handling and API development.

Testing
The testing phase begins in order to evaluate the application and improve the product further. Any minor issues are taken care of in this phase and after this phase is done the product is considered complete in its entirety. Testing a web application can be done in an automated or manual process.

Deployment
Launching a web application is also important to avoid any unnecessary competition. This step is often left to the marketing team with some suggestions form the developers. During the launch the product has to make an impact in order to secure its future and return the value of investment behind it. After deployment, the work is not done as the web application has to go through updates regularly.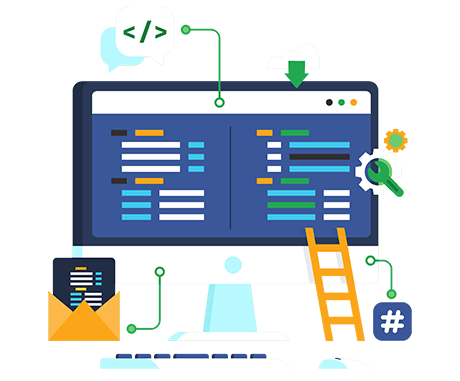 How our Web App Development helps your business grow?
Improved Efficiency
24/7 Accessibilitye
Security
Cross-Platform Capabilities
Simple Customisable and Scalable
Simple Installation and Maintenance
Money-Saving
Easy Expandability
Web Related Technologies
Web Related Technologies