Mobile App Development Process & Strategy
Developing mobile application in order to appeal to millions of users under the Digital network.

The Research
Turning an idea into a mobile application takes careful planning regarding its audience and utilities. In order to do that we conduct through brainstorming and research to identify the consumers. We study their behavior patterns and refine your idea fits into those patterns. In this phase we lay the groundwork for the application.

Wireframing
In this phase, we create a sketch of the idea and how it will transition into a full product. This allows us to deliver an easily understandable plan to the client along with traceable steps of development. Wireframing is a strong planning and communication tool that allows us to discuss product development and its essentials.

Technical Feasibility Assessment
In this phase, we test the feasibility of the product with regards to different mobile formats. During this phase, we study different platforms as well and decide some of the best ones for your application. According to the discussion, some functionalities can be dropped due to their infeasibility with the platforms.

Prototype
After the feasibility analysis, the first prototype is prepared for the application. This has the basic functionalities and is used as a physical manifestation of the concept and ideas. The framework behind the prototype is very flexible allowing for any rapid changes and improvements. This steers the product in the right direction.

Design
This is a long process with multiple phases revolving around constant reviews and feedbacks. During the design, experts can focus on coding and designing the user interface (UI). The teams develop many variations of the interface along with functionalities that reflect the concept. This process is all about picking the best part and putting them together.

Develop
This phase continues from the moment an idea steps into conceptualization. This is the step that leads to the first prototype and then quickly moves towards better designed variations. The process of removing bugs and issues still continues and a partial version (beta) is prepared at the end of this phase for external testing.

Testing
As the applications go through the developmental phase testing continues alongside it. The initial tests are done by the product developers themselves. Whereas, after the beta version is complete some individuals from the outside test the product. This provides information about any further bugs or issues within the product.

Deployment
This is the phase where your product makes it into the consumer market. During the launch elements like time, day, and competitions are kept in mind. But this is not the end as after the product reaches consumers their response also adds valuable feedback to its improvement. Some products reach their peak after taking actual consumer feedback and improving on it.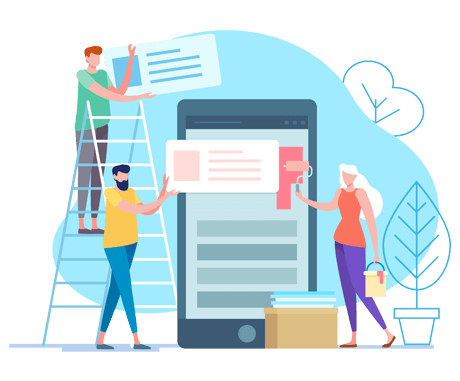 How our Mobile App Development helps your business grow?
Strengthen customer engagement
Increase accessibility
Provide value for customers
Cross-Platform Capabilities
Transforming the retail experience
Stand out from the competition
Cultivate customer loyalty
Unique services and payment