Business Process Automation Process & Strategy
Automating your production process to eliminate unnecessary interaction, gain better delivery time, and scale your business.

Automation Design
Automation designs allow you to customize your products to achieve a great competitive advantage. Such a design leads to more sales and thus an increase in revenues which is beneficial for the scalability of the business. Automation design allows the client to make their manufacturing process more efficient and with greater consistency.

Implementation
Automation has many benefits as it reduces the basic handle time and allows for a better-quality design. This decreases the need and heavier time frames of training, which in turn saves the company tones of money and resources. Automation enhances the efficiency and user experience due to its ease and flexibility.

Execution
After execution, the Business process automation allows for better management of the company's resources. It speeds up the production and deliverance time and helps the overall speed of work. T helps in improving communication between employees and helps in identifying the priority attached to each task. It keeps the day to day operation under firm control.

Monitoring
The constant monitoring of the business process, which goes through a series of reviews. This gives out an overview of the performance with the help of several powerful tools. Monitoring is a great way of keeping things in control while looking into the product for any improvements and updates.

Optimization
A thoroughly optimized BPA reduces the chances of human error, as it reduces the need or manual interaction. It manages the resources of the client in an efficient manner to improve the organizational structure and performance. That is why business process automation is gaining high appraisal by modern business owners.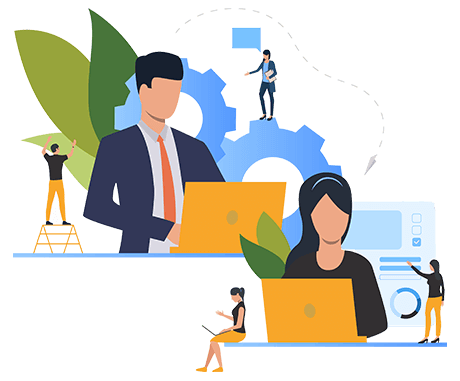 How our Business Process Automation helps your business grow?
Increased Productivity
Streamlined Communication
Reduced Time and Cost
Improved Quality
Greater Visibility
More Efficient Task Management
Improved Operational Stability
Greater Customer Satisfaction