Experience Design Process & Strategy
Using the best up to date practices and techniques, to optimize your seamless designs across all platforms

Understand
To understand a product we focus on the need of the client. These needs are usually related to a problem that needs to be solved. A good product is able to solve a problem with the highest efficiency. While displaying an aptitude to flow up further issues to keep the business flowing.

Research
The research for a product is based on a few key factors which revolve around you and your competitors. Plus, it also takes into consideration the market in which you will compete for your product. The more data we are able to gather with relevance to your product the better it is going to be.

Sketch
This is the stage where we draw visually representation of the product and its features. This representation can be on paper, whiteboard, or any digital format to share with the client and other stakeholders. This sketch would allow them to get a brief understanding of the end product and functionality.

Design
After the sketch is finalized and approved, we move to designs. This is the phase where the clients keep in close contact to finalize the color schemes, typography, and icons to add their personal touch to the product. Any principles and guidelines are also decided or tweaked in this phase.

Implement
This is where your part ends, as this is the technical aspect of the product where our experts start implementing the information gathered from the previous process. Our teams develop the back-end functionality of the product and join it along with the front-end interface making the product partially complete.

Evaluate
The final step where the product is tested to take in the overall feel of the product. The essence of evaluation is to look through the flow of the interface and compare it to the expectations that were defined by the client and research. Areas the need further improvement are marked in this final step.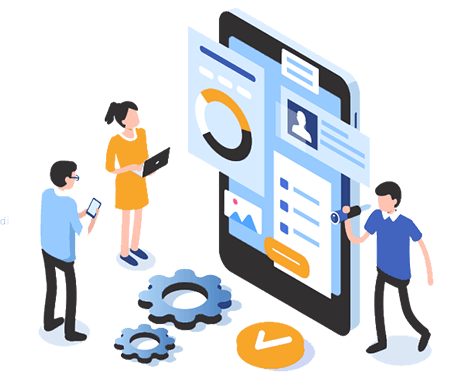 How our Experience Design helps your business grow?
Customer Acquisition
Customer Retention
Lower Support Costs
Increased Productivity
Reduces Development Time