Product Development Process & Strategy
Taking your ideas into our digital workshop and embedding it with the latest business models for a successive launch.

Idea workshops
Product development requires an idea that is able to perform well in the SWOT analysis. This analysis highlights the strengths and weaknesses of the idea, allowing for a better understanding of the potential that the idea holds. After which a projection can be made after taking opportunities and threats into consideration.

Feasibility workshops
Depending on the idea's performance on the SWOT analysis the team decides to either take on the project or to let it rest. This allows ideas with great potential to be taken up almost instantly. While the riskier ones that may or may not yield good rewards can wait for better days.

Business model
After the idea is taken in by a team then they design an appropriate business model for it. This is the basic concept that helps the idea turn into a fully flourished product. During this phase, the concept is pitched/tested a few times to apply the best model to the idea.

Product roadmap
During the roadmap planning, all the metrics are decided for the product including the time it would take to develop the product. Along with the values of the product together with all of its utilities, combined with a data projection of the potential sales. This road map will guide the team towards completing the product.

Product Development
This is the stage where your idea takes a digital form. As the beta test version of your product is completed in this stage, and further testing begins. As the beta version is getting ready it goes through the testing process by experts. Whereas, after the beta is complete consumer testing begins.

Marketing Strategy
As the Beta version is complete the consumers are pitched the idea behind the product. They then try the partial product and provide valuable feedback as to the deliverance of the concept. Any technical issues in the product can be rooted out and fixed during this consumer testing phase.

Roll-out execution
Now we work on releasing the finished product to the market this is where the threat and opportunities come into play. By keeping them in mind the pricing of the product is decided along with distribution. The goal of this process is to give maximum benefit to the product.

Launch
This is the moment of truth, where the product makes an impact on the market. To set the product on this path some things are taken into consideration. Like the demographics of the audience, an in-depth marketing strategy, and connection of the product with the audience. Furthermore, making a comprehensive timeline for the product's launch.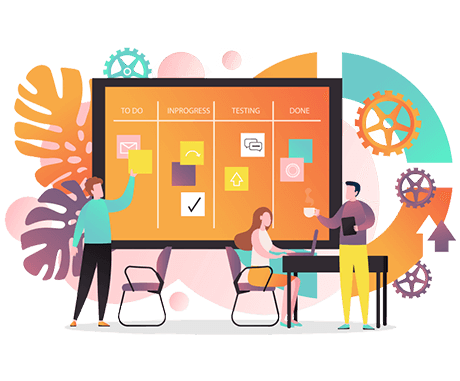 How our Product Development helps your business grow?
Faster time to market= Realise revenue faster
Reduction in material waste
Increase in revenue