E-Commerce Process & Strategy
E-Commerce is the backbone of business and here at Coeus, we will help you maintain an optimum structure.

E-commerce Consulting
E-commerce is the backbone of digital platforms and it is a perfect fit for growing online businesses. In relative terms, e-commerce is very goal-oriented, and its efficiency makes it very time saving as well. These two combinations are enough to make it appealing to any online business or service.

Receptive Web Design
Receptive web design is the one that is projected to remain dominant in the digital platforms for quite some time. Adopting such designs add to the opportunities for the business for years to come. The essence of receptive web design is its flexibility to fit into every display no matter the size.

Implementation
E-commerce implementation allows for the business to sell online regardless of either day or night. This also allows the business to target a specific audience to ensure maximum sales. Platform implementation can be quite complex for an e-commerce website. But with proper guidance, it is possible to reap such benefits.

Contriving E-commerce Hosting
Securing a rich platform for the hosting of your e-commerce website is important. It offers a scalable opportunity for your business to grow into this digital market. Therefore, e-commerce hosting is very important for any website to realize its true potential. Realizing such potential allows one to maximize their revenues.

System integration
A constant flow of data is very important for an e-commerce website, and it serves as the fundamental of digital business. Seamless integration of the e-commerce system is what you need to realize your true potential and significantly impact your bottom line. This integration yields many operational benefits while trading online.

Support and Training
E-commerce support ensures that your business is always available for trading. We provide support regarding all changes that occur on your website. This support also serves as a consultant. Whereas, E-commerce training is given during the pre-launch period. So, the proper owners can take charge of the website. This allows the owners to utilize powerful tools to their advantage and gain the same benefits form the product as the developers intended.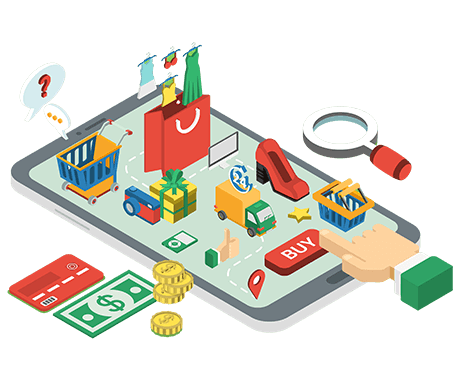 How our E-Commerce Solutions helps your business grow?
Increase customer's trust
Accessibility & Easiness
Fascinate New Clients with Search Engine Visibility
Keep Birds Eye on Buyers Buying Habit
Selling Products globally
services provided 24*7/365
Technologies
We are Coeus, We Builed Solutions.