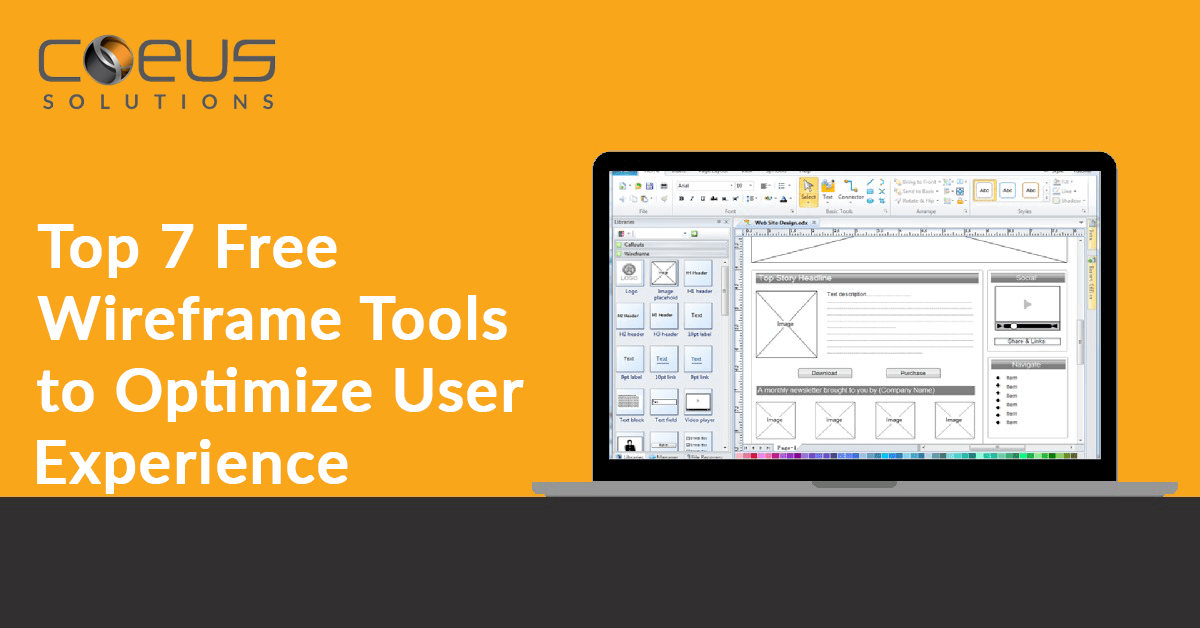 May 22, 2020
Coeus Solutions
In this highly digital world, marketers today face a constant challenge to meet consumer expectations. Brands spend millions of dollars to adopt the latest technologies into their strategy making and staying alive in the market. However, there's a simple and effective way as well! Make sure your website has a major focus on providing a valuable and aesthetically pleasing user experience that captures the audience and uplifts your lead generation and other important measurements.
It is necessary to deliver an optimal user experience that is more than just a design. Thankfully, there is a pool of absolutely free tools that will optimize the user experience to its maximum strength and give you a lead generation that you truly deserve! Let's jump into the details and see some of the top free Wireframe tools to optimize the user experience.
1. Lucidchart
Lucidchart is a free UI design tool that offers a complete feature Wireframe builder. It offers an efficient collaborative system that allows multiple individuals to work on it at the same time, resulting in a massive cut down in the actual project time. Lucidchart is available as a Chrome add-on, which allows for ease of accessibility.
The team can transfer their diagrams onto Google docs or Sheets without disturbing the workflow. All in all, it is a great tool to have in your list, no matter the size of your team, it can accommodate all, to finish tasks before competitive time.
2. InVision
InVision is a cloud-based tool that offers multiple options for its users. You can design wireframe mobile applications, architecture documentation, and desktop sites. Moreover, it helps in creating visual navigation flows as well, making it a very handy tool for User Experience optimization. Utilizes a full collaborative component, this tool allows you to seek feedback from your teammates. Best of all it helps the testers navigate through your apps in a very realistic manner. Therefore, this means that any bugs or glitches can be found effectively using InVision.
3: Moqups
Moqups also runs on a cloud-based environment that offers design options with full stencils and icons. Its library is full of such condiments, which help you make any optimization that you desire. Moqups offer a unique feature that allows you to upload your images for use. This gives your website a chance to shine and stand apart from the rest of the competitors. You will get a useful drag and drops feature that allows you to construct flowcharts and storyboards, apart from designing wireframes of the website.
4: Wireframe.cc
As the name suggests, Wireframe.cc is a tool specifically designed to boost the optimization of User Experience. It's simple to understand which allows the majority of the users to have a full grip on the tool. Wireframe.cc offers uncluttered UI which utilizes pop-ups instead of the usual toolbar. This unorthodox design can enhance the user experience by paces, only if properly used. That is why Wireframe.cc is gaining much popularity as businesses look to offer their users a never seen before the aspect of digital stores. Moreover, it also gives you a complete collaborative environment allowing the team to work on a single project simultaneously.
5: MockFlow
MockFlow offers you a plethora of design choices from its vast library of templates. This allows you to uniquely configure your website along with a better user experience. Through MockFlow you can create websites, applications, sitemaps, and much more. You can even create an interface blueprint that will aid you in your endeavor. Moreover, you can choose from custom third-party templates and layouts as well. So, no need to worry if you cannot find something in the library. MockFlow allows you to display a lot of elements through your mockups, that help you stand out from the crowd.
This tool is a great help for those who seek to make a completely new design with optimized user experience. The uniqueness MockFlow offers is very rare but it requires you to have a firm grip on the technicalities. As highly customizable often means highly complex as well. Yet many argue that MockFlow is not as difficult as it appears to be. Therefore, users are encouraged to try it for themselves and decide.
6: Fluid UI
Another cloud-based solution, Fluid UI is a wireframing tool with a library of more than 2000 elements. With the help of this tool, you can create prototypes for page animation to enhance the user experience. The prototype will help you gain an idea of how to improve the final product in a pseudo testing way. Moreover, your prototype designs can be applied on mobile platforms as well. Allowing for a deep user study and improvement.
That is why users that are not sure about how to incorporate animation into their website need this tool. Fluid Ui will help you decide which steps to take or to change along the way to better user experience.
7: Pencil
The only desktop wireframe tool to make it into this list, Pencil is an open-source full free tool for the users. This tool offers you a feature to create and connect multiple wireframes with links between the webpages. When exporting your wireframe to a webpage, this tool quickly preserves the link to link you with the mockup for the website. This tool even allows you to work on a mobile platform like Android and iOS due to the flexibility of its stencils.
When comparing to other Desktop user experience optimization tools, Pencil stands above the rest. That's why it's on the list!
Takeaway
Every tool has the uniqueness that gives it an advantage over others. Therefore, the best way to move forward is to have a better understanding of your user needs and look for the best fit that will give you complete access to optimize the user experience in the best possible manner. Good Luck!
Posted in: Mobile App Development