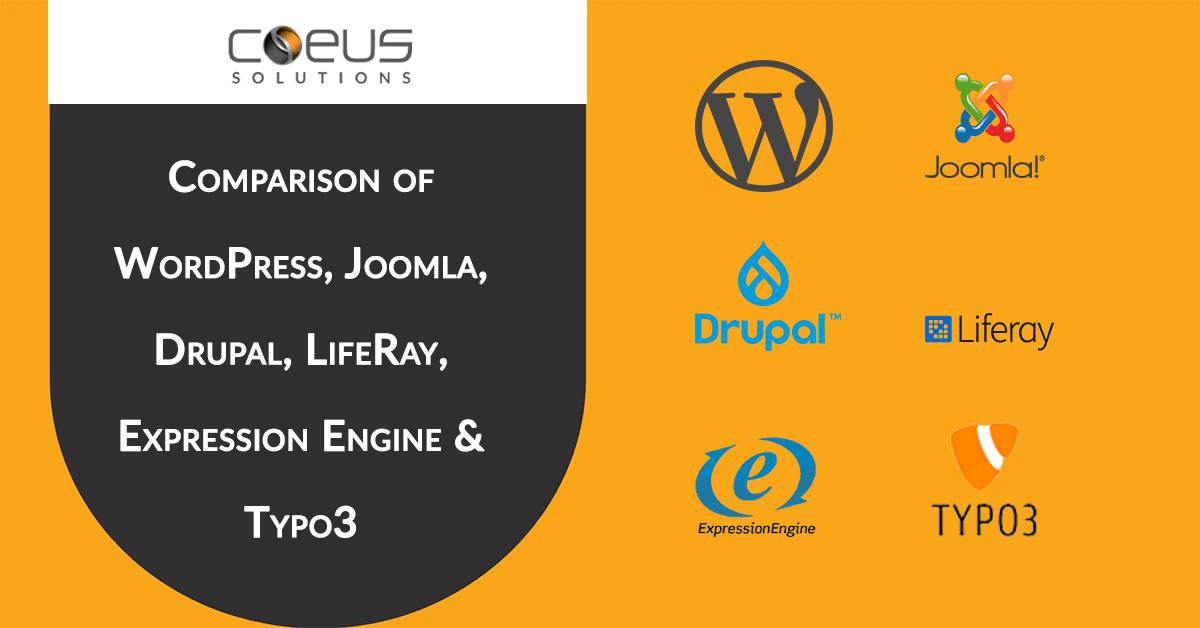 May 22, 2020
Coeus Solutions
If you're thinking to create a website or a blog, always go for the best CMS available in the market. An easy to use CMS platform will allow you to create beautiful websites with any need for the HTML or CSS coding. We cannot deny the fact that WordPress stands ahead everyone as about 30% of the websites in the world are using this platform, but that doesn't mean that its the only CMS users need to consider.
Jumla, Drupal, and others are by no means any less useful than WordPress as the epic battle between the big CMS brands are going on for more than 14 years now! Let's take a closer look at some of the highs and lows of each CMS and which one is worthy of usage.
WordPress
WordPress sits on top of the throne right now, WordPress is above the rest by a clear margin. Almost 75 million websites have been built on WordPress and the numbers keep growing every day. Clearly there is no equal when it comes to this CMS and the facilities it offers. There are more than 3000 themes to choose from, plus it supports a whopping 44,000 plugins. So, no matter which plugin you wish to utilize WordPress has it already covered. WordPress is free to use, and it is Open-Source, meaning it has more flexibility for your needs.
This platform updates every 40 days in order to keep in line with the changing trends in the market. It's ideal for simple websites that mainly place their focus on blogs. But nevertheless, eCommerce websites can make full use of this as well. Its UI is very easy to use and navigate and you do not require any technical knowledge to use it properly. It is highly customizable with built-in SEO support, which makes it easy to scale with the progress of a website.
However, it has a flaw which is its moderate performance, as this CMS is designed as a fit for all kinds of systems. That makes its architecture fairly simple and hence less impressive as well. Plus, its security is also not too good which needs additional plugins for its aid.
Joomla
Joomla is rapidly gaining popularity in Asia and many Asian developers are making use of this Content Management System. To date, it has helped build 2.8 million websites giving it a market share of 7.2%. This may not be very impressive when comparing to WordPress, but Joomla is fairly young in comparison. It supports almost 5,000 plugins and offers 1,000 themes, showing that Joomla is more focused on specific sectors of the digital market. Joomla updates itself every 36 days to keep up with the latest practices.
Joomla is an ideal CMS for social networking websites due to its structure and flexibility. Plus, its security is better in comparison to WordPress. However, it is a bit difficult to use as it has a slightly complex architecture. Moreover, it is on the lower side when it comes to SEO optimization.
Drupal
With 25 million downloads and above a million websites running on Drupal, it's a good option for community websites. This platform is able to handle multiple users fairly easily, which makes this system a bit more complex than the others mentioned before. It only gains a market share of 4.8% with its support for 26,000 themes. Drupal like Joomla focuses on a specific category, which caters to people looking for vast community management.
This CMS is highly customizable and thus requires a lot of technical expertise. It has built-in SEO support, but it is arguably less efficient than WordPress, but more efficient than Joomla. It is integrated into more than 200 platforms and is highly secure with ample protection.
LifeRay
A CMS going for an even Niche market, only 10K-15K websites have been built on Liferay. Making it hold a market share of less than even 1%. It has no free themes or plugins and its updates are frequent taking 30 days. It is mainly used by the corporate business due to its CMS capabilities. However, this platform is complex to use and leaves a little room for customization. With a focus on corporate businesses, there is no compromise on the security of the platform.
However, it lacks a proper built-in SEO support option, which in turn makes it less desirable. Moreover, its scaling abilities are fairly limited making it appealing to only its selective niche.
Expression Engine
A market share of less than 1% with only 2,400 websites built with this CMS, Expression Engine has one of the longest update frequencies of 60 days. It no free themes or plugins, and most of its features are paid ones. It is mainly used by small business and individual websites, due to its complexity. Expression Engine is customizable to some extent but doing so requires a lot of technical knowledge. Its security, however, is its main selling point which is better than other CMS platforms. But this comes with a huge compromise on its performance.
It has limited scalability and no SEO support making it fit for a very small percentage of the audience.
Typo3
Typo3 has almost 9 million downloads with a market share of 1.5%, as it has helped build more than 10,000 websites. Unlike the previous entry, it offers 100+ free themes and 1500+ free plugins. However, its updates are still as frequent as 60 days on end. But seeing as Typo3 is an enterprise CMS and is ideal for publishing digital content as it appeals to many people. It has good security and is adequately customizable. But managing it requires expertise as its architecture is fairly complex. It has good performance and can support multiple websites, but it has no SEO support. The language which develops Typo3 like all the above-mentioned CMS is PHP. LifeRay is the only exception that uses Java in its origin.
Who's the Winner?
In Conclusion, WordPress is still the #1 CMS for all types of users unless you have a specific niche. As users with a concentrated focus and technical knowledge to back it up can utilize other systems as well. Each one of them offers unique benefits in one category or the other. But WordPress remains far ahead of them in its own respect.
Posted in: eCommerce , Website Development