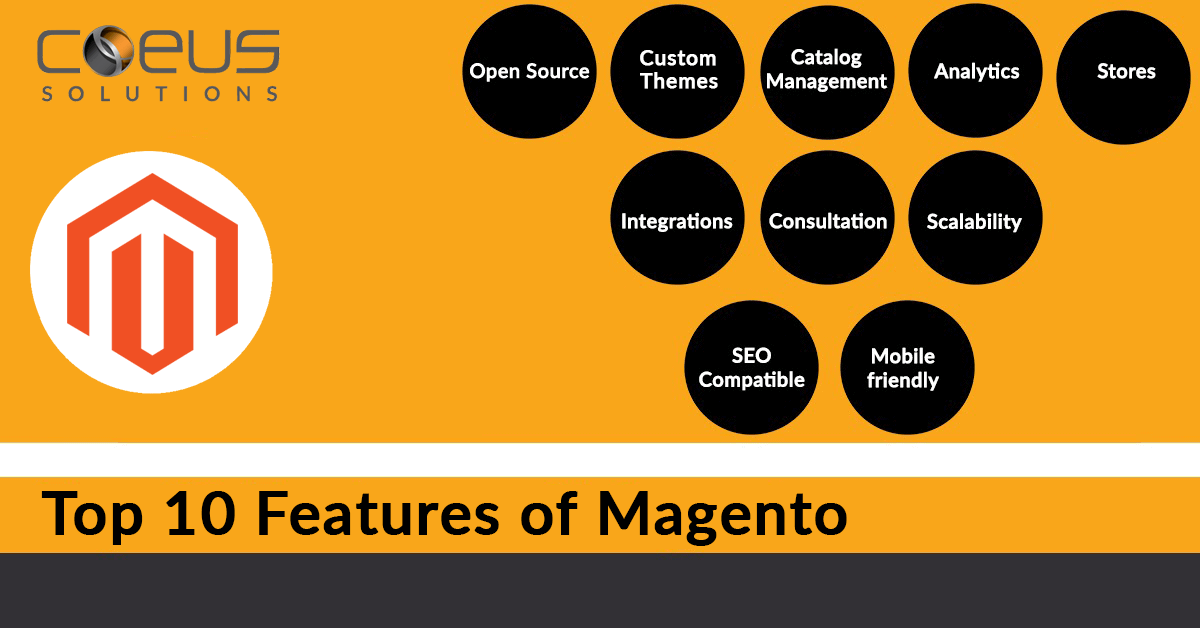 May 22, 2020
Coeus Solutions
Magento is one of the leading e-commerce platforms available in the market. It was released in 2008. It holds 30% of the share in the e-commerce market which is increasing by each passing day. Recently, the company has launched its latest update, Magento 2. It comes with enhanced features and functionalities, which are expected to be much better than the previous version. This will prove to be an even better experience for the developers as well as the business owners.
There are a lot of reasons due to which the developers worldwide are switching to Magento. However, the 10 top key features are discussed below:
1: Open Source Platform
Magento is an open-source platform. The source codes are easily modifiable. It is accessible to everyone worldwide. The main feature is its flexible structure, which means that developers can easily customize it as per their requirements. Currently, it is available in two different forms, the enterprise edition, and the community edition. Both are easily available. However, the community edition is free of cost while the enterprise edition is paid.
2: Custom Themes and Templates
One of the useful features of Magento is a variety of pre-designed themes and readily available templates, and with the help of its latest update, the Magento 2, developers can customize a variety of themes with ease. It's possible with the incorporation of base views in its structure module and lack of base theme in its design. Moreover, we can say, it is one of the most convenient platforms for developers and business owners, as it is more efficient and time-saving.
3: Catalog Management
For any online store, the product catalogs are the source of information for its users. These catalogs contain the range of the products and their relevant information. With Magento's platform, the sellers can choose between simple, virtual, configurable, and downloadable products. This platform provides easy import and export of the products. It also identifies the applicable tax rates, based on each locality. Moreover, Magento is a platform that provides a solution for complete inventory management with the help of its available extensions.
4: Report and Analytics
Magento is incorporated with a variety of analytical reports by default. It is also linked with google analytics which increases its credibility. This feature proves to be an excellent tool for developers as well as businesses. This feature helps in organizing the tasks in a better way to increase efficiency. A few of the tasks this system performs are that it informs the seller regarding the total sales and keeps records of the invoices. It helps keep a check on the availability of stocks, which enables the seller in managing the required stocks promptly. It also generates reports based on the customer's behavior, for example, abandonment of the carts and tags used by the customers. This helps the seller in evaluating the opportunities and threats that could affect the business.
5: Multiple Stores
Another key feature is that it enables the users to operate multiple websites through a single system at the back end. It provides a single dashboard that is accessible to the admin and the authorized personnel. It helps in managing everything through a centralized channel.
6: 3rd Party Integrations
In order to make your e-Store unique, some other tools and extensions are essential. This includes payment solutions, shipping, and tracking facilities which will help your business operate both digitally and physically. For this purpose, the stores require multiple 3rd party integrations. Magento provides a smooth and easy integration of such essential 3rd party integrations.
7: Consultation Services
Magento's platform provides access to special consultation groups and these groups include a bunch of trained professionals. The purpose of these professionals is to provide you with guidance to understand the platform better. These groups also provide essential training to the business owners and the developers.
8: Scalability
Today, businesses are expanding rapidly, so it is very important to create an ideal environment for a small business to progress. To accommodate this Magento allows you to make changes to your online store at any point in time. This will help your business grow as the number of products increase and information needs to be updated. This is all because of new features and customization options within Magento 2 . Therefore, the websites will be able to accommodate large catalogs and ensure progressive growth with the help of Magento.
9: SEO Compatible
Magento provides an entirely SEO friendly environment, which is in line with the latest practices. Websites developed on Magento often come to the top of the search rankings. You can easily make changes in URLs, Meta Tags, and Keywords within the Magento platform. Moreover, bots conveniently navigate the webpages as it keeps generating the google site maps. Therefore, with Magento, you will not have to worry too much about incorporating the latest SEO practices.
10: Mobile Friendly
The platform comes with HTML5 technology which provides a mobile-friendly user experience essential for mobile commerce. Moreover, it provides a seamless cross-browser experience. The pages load faster, and images appear at good quality across any mobile phone with the support of Google AMP. Magento also helps in improving the quality of the image for mobile display. Overall, it provides a great user experience.
A large number of web development companies are available in the market that offers their service to help you create your first e-commerce website using the Magento platform. However, you need to know every corner of this platform to be able to select the best possible tools and e-commerce platform for your business.