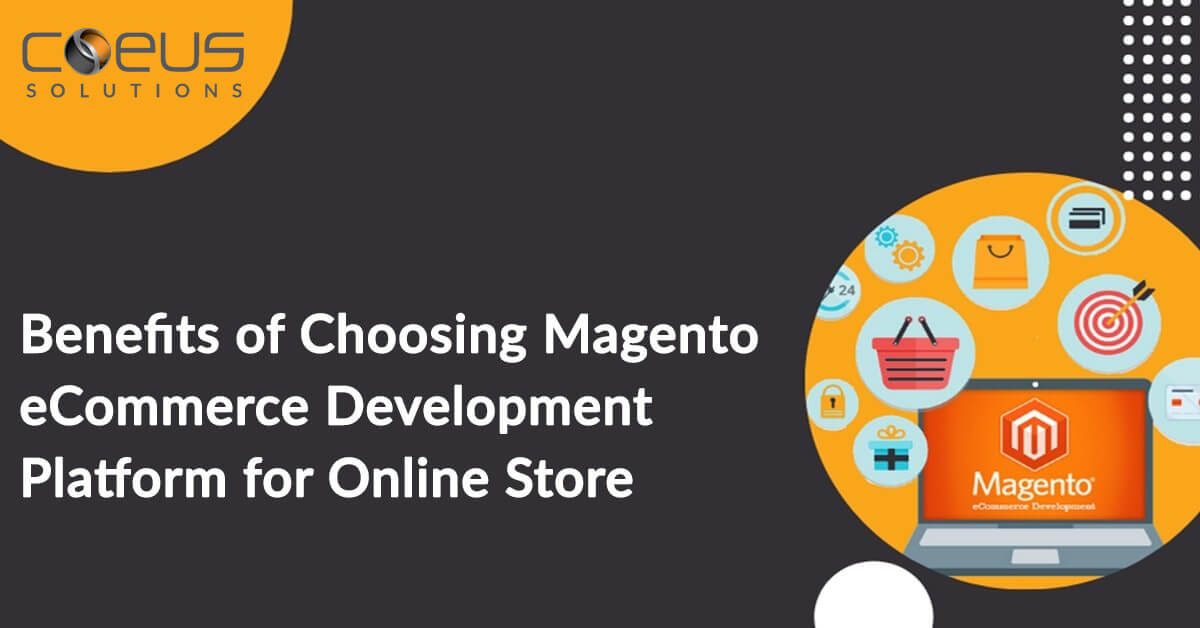 Feb 10, 2020
Coeus Solutions
Buying and selling online is a trend that is gaining rapid popularity and there are many enhancements on the way. Virtual Reality and Augmented Reality programs are being made in order to enhance the e-Shopping experience. Hence now is the best time to create an online presence for your business. Many entrepreneurs are making their way to the e-commerce platform to reap the benefits from this momentum. Magento eCommerce development is among the top choices for any enthusiast looking to open his/her own store.
Therefore, let us take a look at some of the key benefits of Choosing Magento for your eCommerce development needs.
Web Design Customization
As there are thousands of online stores on the internet, your store needs to create its own digital identity using state-of-the-art designs. Therefore, Magento offers web design customization with custom CSS options. This helps you create that unique outlook which will set your store apart from others. Moreover, Magento offers excellent design support in order for the users to stay ahead of the curve in future development. By using Magento you can create a unique website that will help increase your digital presence.
Great Flexibility Through an Open Source Platform
Magento provides users with a great amount of flexibility, security, and transparency. All of these provide a degree of freedom to the developers which are rarely found elsewhere. Magento provides you with the firm ground to lay a strong foundation of your eCommerce website with thousands of customization options.
Three Editions for Magento
In order to accommodate the different needs of different users, Magento offers a unique solution. It is available in following three different editions for the developers and the business owners:
It offers all the unique tools and features that developers require to create a website from the ground up. The community edition is like a complete and well-balanced edition that provides an all-in-one cloud option. Moreover, it provides high compatibility, ease of deployment, and an enhanced security. This is the most popular edition used by Magento eCommerce development experts and will be fit for the majority of the users.
In order to reap the benefits of Community Edition plus a little more, you need the Enterprise edition. It has all the tools and facilities to make anything possible in terms of eCommerce development. In simple words everything the community edition does, Enterprise edition does it better. It allows your e-Store to reach the new height that it deserves.
A semi-free and paid version, that offers a convenient set of tools to the developers.
SEO Support
Magento not only allows businesses to manage their online stores, but also manages its SEO optimization. Magento is among some of the friendliest SEO platforms that help your site become visible in the digital world. It helps you in handling traffic on your webpages, helps you in indexing your website, and gaining visibility to your landing pages as well.
User-Friendly Dashboard
Magento eCommerce development helps the developers navigate their way through its services. It offers a user-friendly dashboard that helps them in editing and updating product information. Moreover, it helps them in linking content to the webpages which saves them a lot of time. Developers can "stretch their legs" while using Magento as it helps them focus their attention on major tasks while aiding them in the minor ones.
Multi-Store Management
For businesses that are running multiple online stores, Magento offers the opportunity to manage them from a single platform. It eliminates the needs for lengthy preparation in order to switch from one platform to another to access different stores. Magento allows you to skip all the unnecessary formalities and switch between multiple stores. Instead, its built-in features let you oversee different eCommerce websites from its one centralized admin panel.
Marketing Tools
Another great advantage of Magento is the ability to incorporate discount codes and promotions with your products. Website owners do this in order to increase the retention and conversion rates for your clients and Magento knows exactly how and where to put your discount codes and promotions.
Faster Loading Time
According to experts, users are 50% likely to leave a webpage if it loads any slower than 3 seconds. Therefore, in order to make sure your webpages load instantly you need to utilize the Magento platform to your advantage. This platform boasts incredible loading speeds despite the content of the website. Moreover, it's faster loading capabilities manage a lot of user traffic on your website without sparing any speed. If you have a content focus website, then Magento is the best partner for you.
Better User Experience
Great user experience is one of the major contributing factors that convert visitors into customers. Magento utilizes various interactive elements in such a way that users cannot help but click that button. Moreover, it provides them with an easy to understand layout with great navigation options. So, their stay at your website becomes a pleasant experience and in return, you gain a loyal following.
Scalability
For any eCommerce website, scalability is a big competitive advantage. Hence, Magento offers higher scalability giving you a chance to grow your website along with your business. It offers spacious page layouts which can house dozens of products. So, you will never need to worry about changing or switching ecommerce platforms due to production capacity.
Free Platform
Magento is free to use along with the latest tools and technologies. It offers high security to keep your eCommerce data safe and secure. The flexibility Magento offers is unparalleled as it offers so many customization options to choose from. Therefore, if you are looking for a good online presence and a good eCommerce website then Magento is the best option for your business.