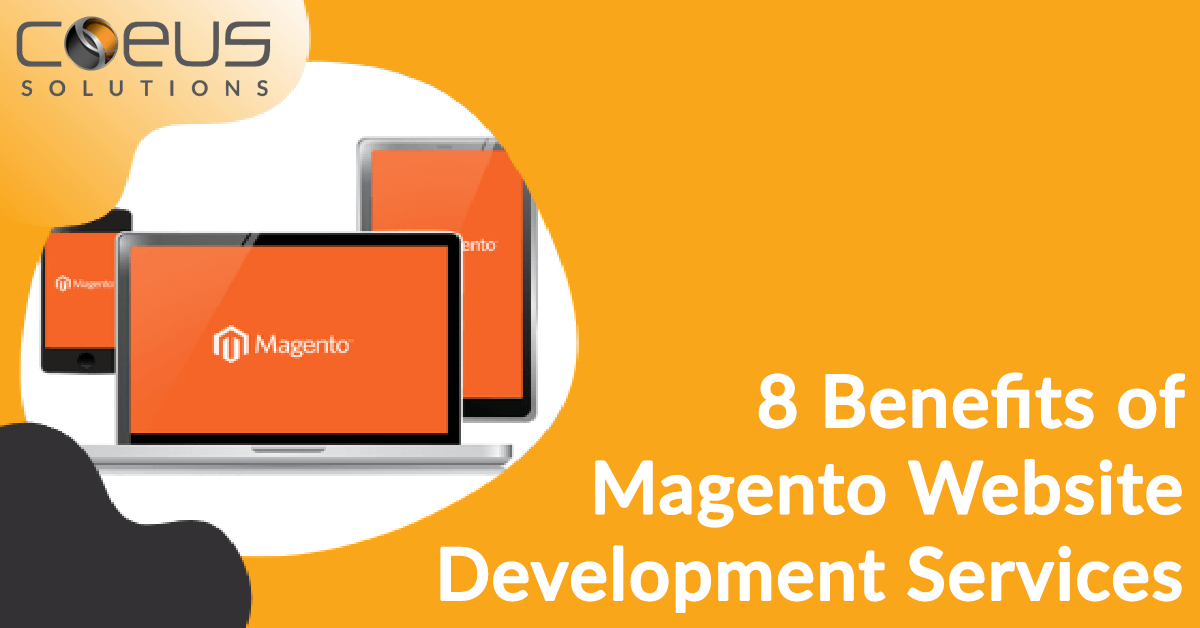 Feb 10, 2020
Coeus Solutions
The global market is becoming ever more competitive with the consumers' refined taste and preferences. Therefore, it is becoming essential for you to improve your marketing skills to be more efficient, reliable, and quick. But all these changes need to be equipped within your e-commerce platform in order for you to benefit from it. That is why, Magento is the best choice for your e-commerce website, as it offers high-speed browsing for the customers. Moreover, it helps them in navigating around the website and allows them to check the details of their products. All of which helps them in making a final decision in purchasing your products.
Magento has numerous benefits for any e-commerce website due to its user-friendly platform and SEO optimization. Moreover, it offers tools for content management, product display, and tool implementation. An e-commerce website is like a machine that requires each cog and gear to work in sync for a better experience. Therefore, let us dive deeper into why Magento is the best option for your ecommerce needs.
1: Mobile Friendly Platform
Mobile platforms are highly convenient as they allow the customers to view your website from anywhere at any time. That is why incorporating Magento into your e-commerce website is absolutely essential. In the US alone, 79% of the mobile devices are involved in some form of transaction. This ratio varies across the world, but experts are sure that it is increasing at a fast pace. Amidst the social distancing factor, digital transactions have increased even more drastically.
Therefore, to make sure you do not miss out on such a massive opportunity, Magento is a must-have platform if you are looking for an ecommerce solution.
2: Content Management
Products go through frequent updates in terms of their prices, ingredients, and functionalities. Keeping this in mind, Magento offers an advanced editor that allows you to easily make changes to your web-pages. The tool is user friendly and does not require any prior knowledge of coding and web development. It means anyone can use it with ease and make changes to their websites accordingly. Moreover, it offers various options for you to select from and all of this is done using its WYSIWYG feature.
3: Search Engine Optimization
Magento is developed by keeping SEO practices in mind. It provides you and your product the best opportunities to appear on search engines like Google, Bing, and other SERPs. Magento also offers many tools that allow you to effectively optimize your business according to the SEO standard. As the SEO standards change frequently, it is very important for any website to have some tools at their disposal, which will help them improve their SEO strategy accordingly. Without such tools, a website has to start from scratch in order to incorporate the latest SEO standards. Hence, Megento is here to help you, so you wouldn't have to deal with such a situation.
4: Ample Space
Magento offers you the opportunity to manage large inventories on a single website. Moreover, it also helps you in handling heavy traffic and a large number of orders. Websites developed on other platforms often struggle to cope with the heavy traffic and crash frequently. Plus, they offer little space for your products, so you must rotate them constantly to make more room for new products. But Magento not only offers ample space, but also allows you to scale up your website as your business grows. This is one of the main highlights of Magento and helps it to become an all-time favorite platform for e-commerce development.
5: Third-Party Integration
Magento allows for effective integration with payment systems i.e. PayPal, Google Shopping, and many more. Similarly, Magento offers third party integration for Google Analytics for you to keep an eye on each aspect of your business. As each business model requires a different set of tools, Magento allows owners to equip their own arsenal with respect to their needs using third-party integrations.
6: Security
Magento offers multi-level security for your e-commerce website to offer you a seamless experience. Moreover, it offers a secondary password prompt that prevents your website from any unwanted security breaches. E-commerce websites deal with regular transactions and hold sensitive information. Therefore, protecting them is very important for the business and the clients as well. Halting the business for a moment can cause them to lose thousands of dollars and leaves a lasting impact on the customers. That is why an e-commerce website requires unparalleled security features, which Magento offers.
7: Filtered Searches
Magento offers advanced filter search for the customers. It helps them to easily navigate their way to the desired product. These dynamic searches filter the products through tags and terms in order for the customer to go where they want to go.
8: Cross-Sell Goals
Magento platform allows visitors to browse more relevant products even from the checkout pages. It helps business owners in increasing sales by making relevant suggestions.
Posted in: eCommerce , Website Development